These totally wireless earbuds deliver great battery life, audio transparency coupled with customizable audio profiles. As with any completely wireless earbuds, they come with some compromises. Read on or watch the video to find out if you should take it or leave it.
Price
$299 + taxes. I want to get this out of the way early; these are expensive. Really expensive. But I see plenty of people walking around New York with pretty premium headphones or earbuds. And when you're walking around with the latest phone you're probably in a position where you might just consider the NUHEARA IQbuds if you're in the market. And you should consider them.
Where to buy
Why I purchased the IQbuds
The idea of totally wireless earphones, such as these IQbuds, appealed to me when I first learned about the Bragi Dash Kickstarter campaign in 2014 which later won awards at CES in 2015, as they boasted a feature that was then new to the industry, Audio Transparency. This now common techno-lingo is used to describe the ability to filter and change your audio experience in real-time depending on your environment. NUHEARA describe it like this "developed proprietary and multi-functional intelligent hearing technology that augments a person's hearing and facilitates cable free connection to smart devices".
As a cyclist, this feature seemed like it may provide an additional level of safety when exploring the streets of New York while enjoying my music and also hearing what is going on around me.
Sound quality
After using the IQbuds for almost 3 months my impressions of sound quality is that it's good, enjoyable enough to leave me satisfied with listening most of the time. There isn't anything really exceptional to mention here, you'll enjoy consistently good sound quality, particularly if you have a good seal in-the-ear. But, at this price point I was hoping to get greater range and depth from these, they're only marginally better than my former Jaybird X2 Sport Wireless Bluetooth Headphones. More importantly, no amount of tinkering with the app will help you achieve an awesome soundscape, and while many would agree that this is near impossible with in-ear earphones, I was just a little underwhelmed.
The IQbuds don't stack up with other mid-range or high-end headphones at a similar price point, comparing them to the Bowers & Wilkins P5 series 2, I don't get as much excitement and enjoyment from listening. That isn't what you're buying the NUHEARA IQ buds though, you're sacrificing a little something to make room for those new features and in going completely wireless and in all honesty, I'd say it's damn close to being worth it.
You cannot escape with current limitations of Bluetooth is compression, the bandwidth of Bluetooth 4.2, released in 2014, provides good audio bandwidth ( losing some detail and this is where your compromises start. I'm unsure of how NFC performs in terms audio signal or bandwidth compared to Bluetooth, but I cannot detect any significant difference between the sound quality of each unit. If you're a spec' head you can read more about the IQbuds technical specifications here.
Sound Profiles
As mentioned previously, the NUHEARA IQbuds feature audio transparency, so they can dynamically tune what you hear, processing sound in your environment and optimize it to suit your needs. They call it SINC, or Super Intelligent Noise Control. If I'm walking through the streets of New York City and I activate street mode, I will hear what's going on around me, horns, squeals, etc. Honestly, the street profile in a busy city is a bit stressful in my view. I'd prefer to highlight more of those critical noises and pull back more of the background noise. You can do this to an extent but the stages seem a little severe. The other modes offered are Office, Drive, "Wold off" for peace and quiet, or Restaurant
You can also activate Office mode, to hear more of the voices around you so that you're not ignoring your team but still enjoy a song or podcast. In reality, I don't know if I would say this works 100% as well I would hope, I usually feel inclined to just remove the IQbuds if anybody approaches me for a conversation. All in all, I value the options and profiles, but I'm not sure if they're doing as much of the work as I'd like... or perhaps I just need to fine tune the profiles some more. It's useful to have these and I use the features daily, just don't get your hopes up too high about the promise of SINC.
Battery Life
I usually listen to the IQbuds in short bursts of 1-2 hours at a time and they hold up just fine, through workouts and riding to the office I haven't had them run out of charge much at all. It is important to note that these earbuds don't turn off. Not ever. NUHEARA's marketing boasts "16 hours of on-the-go Bluetooth Streaming
32 hours of on-the-go Hearing Processing".
When you place them into the charging case, the IQbuds automatically switch to low-power mode but they continue to lose charge. If you leave them at full charge and you don't use them for a few weeks, you may find that both the case and the earbuds have discharged.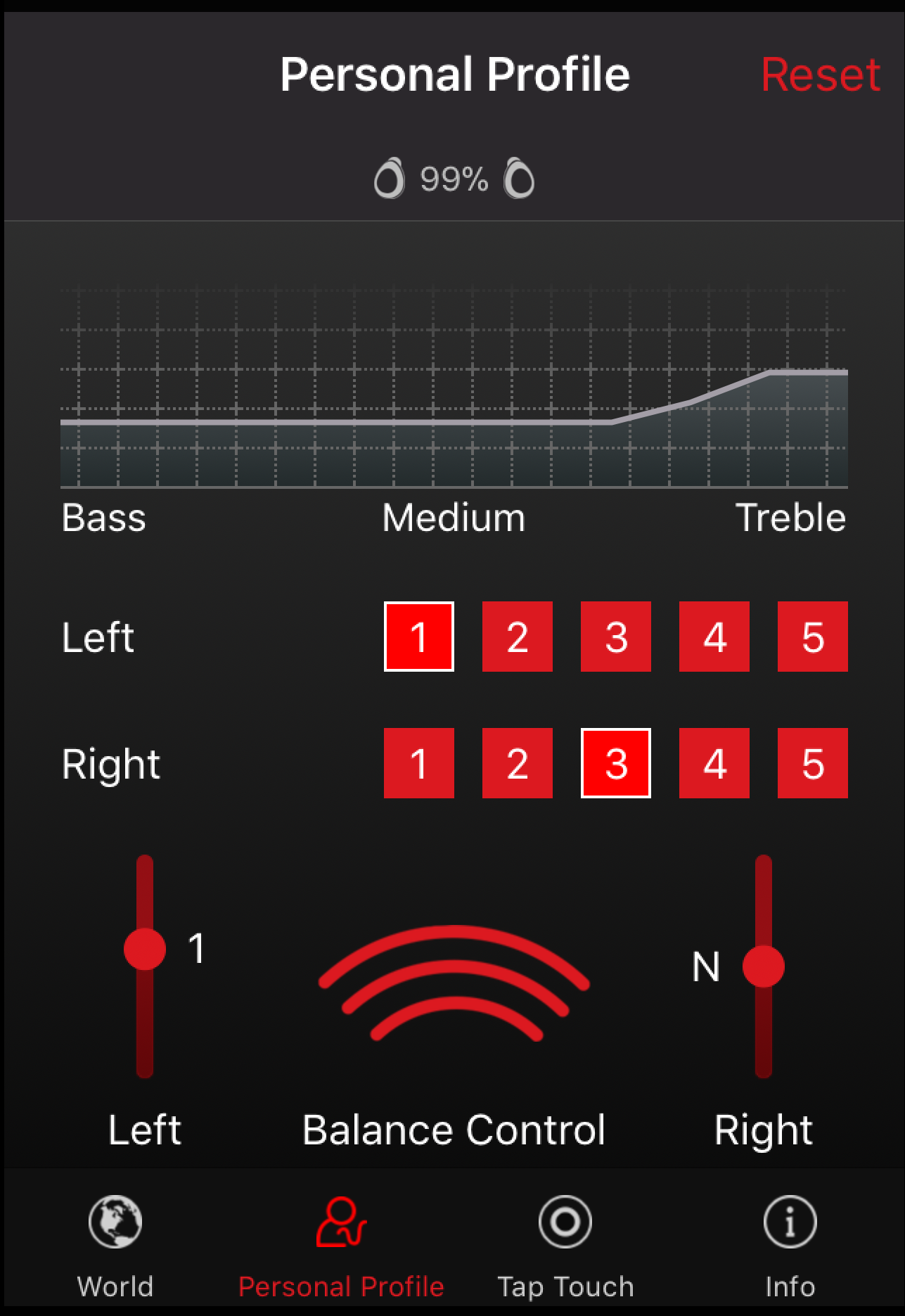 Because these are completely wireless, you use an app to make changes to your profiles and audio preferences via the App provided by NUHEARA. The app is reasonably quite easy to use.
The earplugs too have firmware and this allows NUHEARA to provide new features over time and in theory they can improve earbud performance.
Design
The Earbuds
The design of the earbuds is spartan and dull, borderline unattractive but they don't stand out either which you may be happy about. Personally, I'd have liked some variety in the colors and the materials to feel a little less cheap, the silver plastics on the buds feels especially cheap. There's nothing special about the look of these and compared to some of the other players in this category I'd say they score pretty poorly. Overall, they don't look too bad but I certainly didn't buy them for their looks. They're not flashy, the materials are simple but they are comfortable, wearing these for 2-3 hours does not leave your ears feeling warm, or fatigued. The latest version of the software allows you to customize how you control the earbuds using tap gestures on the ear piece, with configuration options for single-tap, double-tap, and press-and-hold.
The Charging Case
The case too is simple and utilitarian in design. The LED indicators on the outside case and inside are not intuitive as I found myself looking up the user-guide in order to interpret the status of the case and the buds. This seems like a simple oversight and now that I know how to read it, it's not so bad but product design could be improved in the next version. The case charges via provided Micro USB cable.
The listening experience & product flaws
Audio glitches are fairly frequent when you're dealing with Bluetooth I have come to expect this from time to time depending on the distance of the phone to your headphones. Being that these are totally wireless, they use a combination of technologies to carry the audio stream from the phone to the left earbud (Bluetooth), then from the left earbud audio signal is carried using NFC (Near Field Communication) to the right earbud. I find that the signal works consistently between the earbuds, but your experience may vary depending on your phone, and your environment. As with the Bragi Dash and other earphones in this category, indoor listening will provide the best uninterrupted audio experience. I've had audio signal drop outs occur quite a bit while I have my phone in my pocket and that goes away if I have the phone in my hand which can be frustrating. That usually is more of a problem while outdoors. Updates to firmware and the app have improved this marginally.
The biggest frustration that I have with the IQbuds is that they still pick up wind noise unless you activate "World Off" mode. If you are running or cycling in a busy area using this mode, you're endangering yourself and others if you cannot hear. The second issue that seems persistent is that build in Microphones in each earpiece seems to sometimes emit high pitch feedback when handled in certain ways, I don't know how do fix this, but it can be really loud and possibly damaging to your ears if the feedback is triggered close to the ear.
My IQbuds are just about to be sent back to NUHEARA as there is some issue with adhesive on both earpieces which I fear might compromise the water resistant nature of the product. I don't know if this is a persistent issue but they are, I assume, sending me a new pair.
This may be further improved with an update to firmware, but that's to be determined. The most recent firmware update actually changed the outcome of this review completely, as wind noise was horrendous. What I will add here is that NUHEARA have excellent customer support, very responsive and very effective. I reached out via Social Media and they were very quick to take action. I've not experienced
Take it or Leave it?
Take it.
If you are considering going totally wireless, the NUHEARA IQbuds offer a compelling feature set that is an impressive demonstration of how far along audio technology has come. Bugs and high price tag aside, I've been really happy with these earbuds over the last few months.
UPDATE: I've since had to send the IQbuds back to NUHEARA as some of the adhesive appears to have loosened around the seal of the hard plastic and the softer rubberized section. While I'm a bit disappointed with this, I have to say, NUHEARA killed it with their customer support on social media both before I had this issue and throughout. This is how modern companies should be able to operate; picking up mentions and supporting customers on all channels. Our exchanges took place on Twitter and I am still impressed with their response times and support over the last month or so of communications.