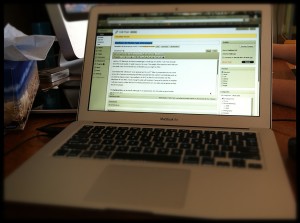 I got the 13″ Macbook Air about a week ago a month ago. It's terrific. I can't say enough  about the build quality, it really is second to none. The weight of the device is such that you can easily carry it one handed as comfortably as you might an iPad.
I purchased the "ultrabook" as a replacement to my 27″ iMac in preparation for my move to the US in February asshipping the iMac just seemed like overkill. I will definitely pick up an external display when I have settled in to NYC so that I'm not hunched over the MacBook Air too often, I have enough trouble with posture. I have yet to decide on whether  I will also invest in a Mac Mini but I'm leaning towards it so I can enjoy some games as they should be played.
The battery life is so far terrific although in my experience, it's not quite as good as the MacBook Pro line.
The temperature of the MacBook Air aluminium body remains warm during even moderate usage and if you do happen to watch video or play some games you'll find the top left side of the keyboard gets properly hot.
In terms of performance I have no complaints. You'd be mad to expect more from a device so thin especially when it's capable enough to handle more advanced applications like Photoshop (which the MacBook Air launches in less than 5 seconds). I've recently installed Windows 7 and a fresh copy of Skyrim and having played through about an hour the frame rate is tolerable but it leaves you wanting more.
The 13″ screen is bright enough for outdoor usage and unlike some iMac models, you can turn the brightness down so that it's not overly-bright in darker situations. I can't fault the colour accuracy or sharpness of the display but I'm no hardcore graphic designer. I can't see any gradients/colour issues through top to bottom of the screen and I haven't noticed any dead or faulty pixels.